Centennial Resource Development Announces Reaffirmation of Borrowing Base and Improvement to Liquidity Position
DENVER, Oct. 13, 2020 (GLOBE NEWSWIRE) -- Centennial Resource Development, Inc. ("Centennial" or the "Company") (NASDAQ: CDEV) today announced that its bank group, led by JPMorgan Chase Bank, N.A., has reaffirmed the Company's $700 million borrowing base. As a result, given a reduction in revolver borrowings and outstanding letters of credit, Centennial's liquidity position has improved since June 30, 2020.

As of September 30, 2020, after making repayments of $15 million during the third quarter, Centennial had $355 million of borrowings outstanding under its revolving credit facility and approximately $5 million in cash on hand. At September 30, 2020, Centennial's pro forma total liquidity was $314 million, based on its balance sheet position, the $32 million availability blocker and $4 million in current outstanding letters of credit. As a result, the Company's liquidity increased by approximately $17 million, or 6%, compared to the prior quarter.
"Centennial appreciates the ongoing support from its lenders with the reaffirmation of the borrowing base. We believe this outcome reflects our high-quality asset base and recent reductions to field-level costs," said Sean R. Smith, Chief Executive Officer. "Additionally, we are pleased to have organically increased the Company's liquidity position through debt repayment and anticipate an improving free cash flow and liquidity profile through the end of the year."
About Centennial Resource Development, Inc.
Centennial Resource Development, Inc. is an independent oil and natural gas company focused on the development of unconventional oil and associated liquids-rich natural gas reserves in the Permian Basin. The Company's assets and operations, which are held and conducted through Centennial Resource Production, LLC, are concentrated in the Delaware Basin, a sub-basin of the Permian Basin. For additional information about the Company, please visit www.cdevinc.com.
Cautionary Note Regarding Forward-Looking Statements
The information in this press release includes "forward-looking statements" within the meaning of Section 27A of the Securities Act of 1933, as amended, and Section 21E of the Securities Exchange Act of 1934, as amended. All statements, other than statements of historical fact included in this press release, regarding our strategy, future operations, financial position, estimated revenues and losses, projected costs, prospects, plans and objectives of management are forward-looking statements. When used in this press release, the words "could," "may," "believe," "anticipate," "intend," "estimate," "expect," "project," "goal", "plan", "target" and similar expressions are intended to identify forward-looking statements, although not all forward-looking statements contain such identifying words. These forward-looking statements are based on management's current expectations and assumptions about future events and are based on currently available information as to the outcome and timing of future events.
Forward-looking statements may include statements about:
volatility of oil, natural gas and NGL prices or a prolonged period of low oil, natural gas or NGL prices and the effects of actions by, or disputes among or between, members of the Organization of Petroleum Exporting Countries ("OPEC"), such as Saudi Arabia, and other oil and natural gas producing countries, such as Russia, with respect to production levels or other matters related to the price of oil;
the effects of excess supply of oil and natural gas resulting from the reduced demand caused by the COVID-19 pandemic and the actions by certain oil and natural gas producing countries;
our business strategy and future drilling plans;
our reserves and our ability to replace the reserves we produce through drilling and property acquisitions;
our drilling prospects, inventories, projects and programs;
our financial strategy, liquidity and capital required for our development program;
our realized oil, natural gas and NGL prices;
the timing and amount of our future production of oil, natural gas and NGLs;
our hedging strategy and results;
our competition and government regulations;
our ability to obtain permits and governmental approvals;
our pending legal or environmental matters;
the marketing and transportation of our oil, natural gas and NGLs;
our leasehold or business acquisitions;
cost of developing our properties;
our anticipated rate of return;
general economic conditions;
credit markets;
uncertainty regarding our future operating results;
our plans, objectives, expectations and intentions contained in this press release that are not historical; and
the other factors described in our Annual Report on Form 10-K for the year ended December 31, 2019, and any updates to those factors set forth in our subsequent Quarterly Reports on Form 10-Q or Current Reports on Form 8-K.

We caution you that these forward-looking statements are subject to all of the risks and uncertainties, most of which are difficult to predict and many of which are beyond our control, incident to the development, production, gathering and sale of oil and natural gas. These risks include, but are not limited to, commodity price volatility, inflation, lack of availability of drilling and production equipment and services, environmental risks, drilling and other operating risks, regulatory changes, the uncertainty inherent in estimating reserves and in projecting future rates of production, cash flow and access to capital, the timing of development expenditures and the other risks described in our filings with the SEC.
Reserve engineering is a process of estimating underground accumulations of oil and natural gas that cannot be measured in an exact way. The accuracy of any reserve estimate depends on the quality of available data, the interpretation of such data and price and cost assumptions made by reserve engineers. In addition, the results of drilling, testing and production activities may justify revisions of estimates that were made previously. If significant, such revisions would change the schedule of any further production and development drilling. Accordingly, reserve estimates may differ significantly from the quantities of oil and natural gas that are ultimately recovered.
Should one or more of the risks or uncertainties described in this press release occur, or should underlying assumptions prove incorrect, our actual results and plans could differ materially from those expressed in any forward-looking statements. All forward-looking statements, expressed or implied, included in this press release are expressly qualified in their entirety by this cautionary statement. This cautionary statement should also be considered in connection with any subsequent written or oral forward-looking statements that we or persons acting on our behalf may issue.
Except as otherwise required by applicable law, we disclaim any duty to update any forward-looking statements, all of which are expressly qualified by the statements in this section, to reflect events or circumstances after the date of this press release.
Contact:
Hays Mabry
Director, Investor Relations
(832) 240-3265
ir@cdevinc.com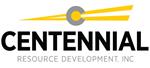 Source: Centennial Resource Development